SGT Kenn Miller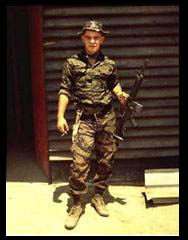 After three voluntary extensions of his combat tours in an Airborne Ranger company in Vietnam, Kenn Miller returned briefly to the United States, then went to Taiwan, where he studied Chinese, majored in anthropology at National Taiwan University on the GI Bill, and worked as an English teacher and bilingual secretary for a trading company. After marrying and returning again to America, he studied history and English at the University of Michigan, and worked as a janitor, auto worker, physical education teacher, ghostwriter, and part time editor and "book doctor" for Ballantine, Ivy Books, and Naval Institute Press. In 1983, his novel Tiger the Lurp Dog was published by Atlantic Monthly Press, with a paperback edition by Ballantine.
Years later, Tiger the Lurp Dog was awarded the Bernal Diaz Prize for military fiction, and is often cited as one of the best novels to come out of the Vietnam War. In 1991, Probus published the hardcover edition of a book he wrote in collaboration with Larry Chambers, The First Time Investor, and in 1994, Probus published a trade paperback edition of this book.
In 1997, Ivy Books published the three volume military history, Six Silent Men. This was a team effort in which he assisted the authors of Book One, Reynel Martinez, and Book Three, Gary Linderer, while Book Two was published under his name. He is one of the founders and Senior Editor of the military special operations journal, Behind The Lines, for which he has written historical articles, book reviews, and a column, Fire in the Hole.
During 1967, 1968, and 1969, Kenn Miller served three voluntary extensions of his combat tours in Vietnam as a Long Range Patrol team member and team leader in LRRP Detachment, 1st Brigade, 101st Airborne Division; F Company 58th Infantry (LRP); and L Company 75th Ranger. His awards and decorations include:
Bronze Star with "V" device and cluster
Purple Heart with oak leaf cluster
Army Commendation Medal with "V" device and cluster
Air Medal
Vietnamese Cross of Gallantry
Combat Infantry Badge