CSM (ret) Mark A. Collazos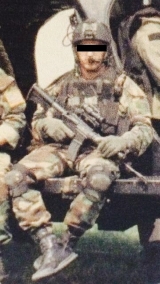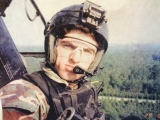 Mark A. Collazos retired as the Command Sergeant Major of 4th Ranger Training Battalion September 1st 2009 after 23 years of active duty service as an Infantry Soldier with 23 years experience.
His past duty positions and assignments include: Assistant Machine Gunner, Machine Gunner, Team Leader, Squad Leader, and Weapons Squad Leader in Aco 3/75, Ft. Benning, GA. RTO and Assistant Team Sergeant, 75th Ranger Regiments Reconnaissance Detachment (RRD), Ft. Benning, GA. Team Member and Assistant Team Leader, SFOD-D (Delta) Ft. Bragg, North Carolina. Platoon Sergeant, Fco 51st Infantry (LRSC), Ft. Bragg, North Carolina. Ranger Instructor and 1SG, 6th Ranger Training Battalion, Eglin AFB, FL. 1SG, HHC, TF 1-501 PIR, Ft. Richardson, Alaska. BN Operations Sergeant Major, 1-36IN, Friedberg Germany. CSM, TF 1-36IN, Friedberg, Germany. CSM, 4th Ranger Training Battalion, Ft. Benning, Georgia.
Completing all levels of the Noncommissioned Officer Education System, PLDC, BNCOC, ANCOC, Sergeants Major Academy. Mark has also graduated from Airborne School, Ranger School, Jumpmaster School, Special Forces Combat Diver Course, Special Forces Waterborne Infiltration Course, The Pathfinder Course, Special Forces HALO School, and the Advance Land Navigation Course.
Mark's combat tours include Operation Just Cause, December, 1989; Operation Gothic Serpent, Somalia October, 1993; Bosnia Oct-Dec 1995 and Mar-Jun 1998; Operation Enduring Freedom 04-05, October 2004 – April 2005; Operation Iraqi Freedom 05-07, January 2006 – February 2007.
Mark's awards and decorations include the AAM, ARCOM 1OLC, Joint Service Achievement Medal, Joint Service Commendation Medal 2OLC, MSM 2OLC, BSM 1OLC, LOM, NCOES #5, Armed Forces Expeditionary Medal w/Spear Head and Star, Presidential Unit Citation, Valorous Unit Award, Airborne Tab, Ranger Tab, Jumpmaster Wings, Polish Jump Wings, EIB, CIB 2nd award, Pathfinder Badge, Special Forces Combat Diver Badge, and Special Forces Halo Badge.